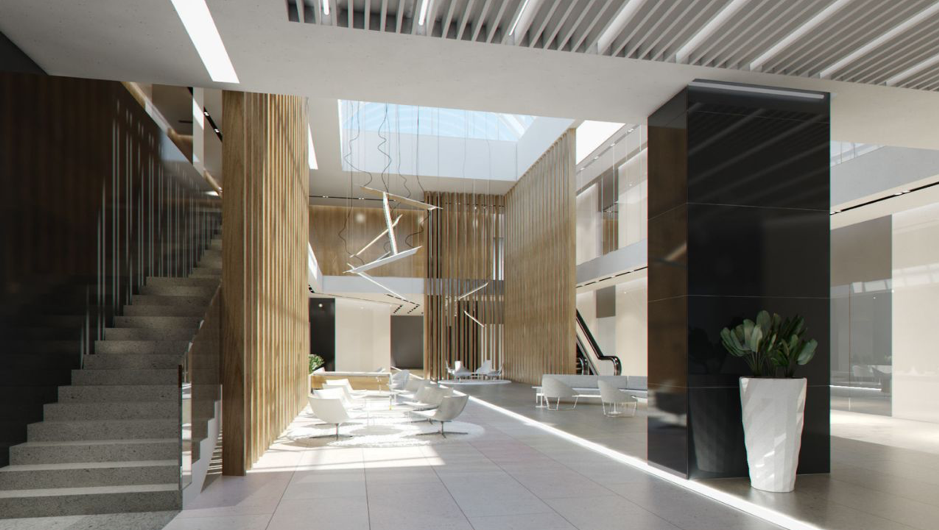 17 / 08 / 2022
/
Fire and smoke
Fire doors versus fire curtains: what are they, how do they work and what are the differences?
Fire doors are a fire protection solution. In this article, we will discuss what fire doors are, how they work, what their characteristics are and what, if any, are the main differences with fire curtains.
What is a fire door?
A fire door or fireproof door is one of the passive fire protection systems that a building may have. Its task is to control the spread of the fire, preventing it from spreading to other fire areas or sectors of the building and, thus, facilitating evacuation tasks. Fire doors can be made from various materials, such as wood, glass, steel, etc.
"A door is defined as a delimiting element between 2 zones that allows the passage or circulation of objects through it".
Characteristics of RF doors
Fire doors must have the following characteristics:
Resist fire by preventing it from spreading to other areas, correctly sectoring and preventing its spread.
Have a device designed to automatically close the door, guaranteeing its operability even after experiencing a large number of openings and closings.
Have a resistance time, depending on its application, generally being 30, 60, 90, 120 minutes. According to the resistance time, we apply the following classifications: the Ei 60 door or RF 60 door, which sectorizes the building against the heat of the fire for 60 minutes, the RF 90 door, which does so for 90 minutes, and finally, the RF 120 door or Ei 120 door, which is capable of withstanding fire for 2 hours.
Types of fire doors
Depending on their movement or construction characteristics, there are the following types:
Hinged fire doors
These are usually made up of 1 or 2 layers anchored to a perimeter frame with hinges. They can remain open using magnet retainers that are activated in the event of a fire.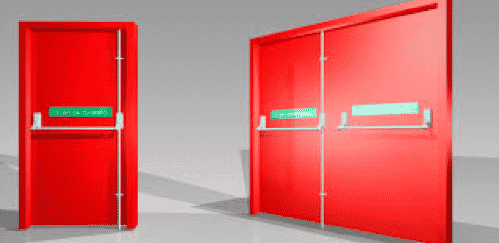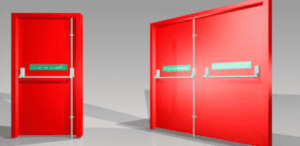 Hinged doors are considered "passage doors", which is why they require durability tests to verify their resistance to opening and closing.
C0 No Cycle Rating
C1 500
C2 10,000
C3 50,000
C4 100,000
C5 200,000
Sliding fire door
Formed by one or more layers suspended at the top from a rail guide to carry out their lateral movement, they can be automated using chain mechanisms, or counterbalanced. They are considered mobile partitions.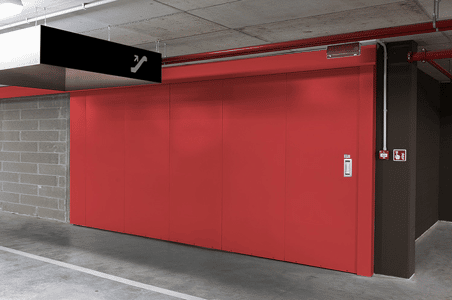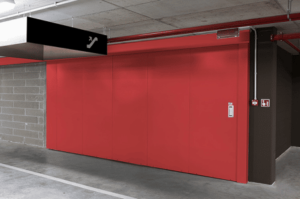 Guillotine fire door
Formed by one or several layers guided by lateral guide mechanisms and retained at the top, generally by an electromagnet, their movement is vertical with a descent controlled by counterweights or mechanical elements for braking control. They can be automated by means of chain mechanisms, or counterbalanced. Guillotine doors are also considered mobile partitions.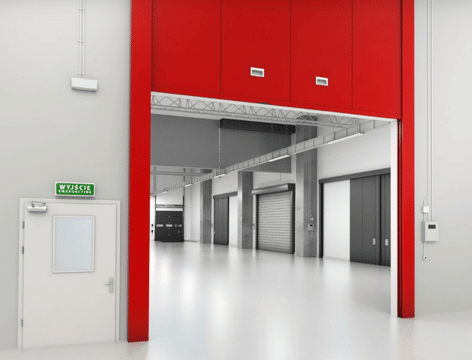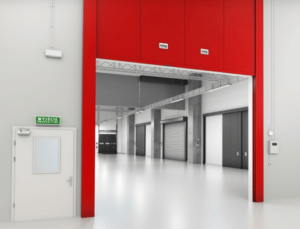 Rolling fire door
Formed by horizontal slats that allow them to roll up on an axis, forming a spiral.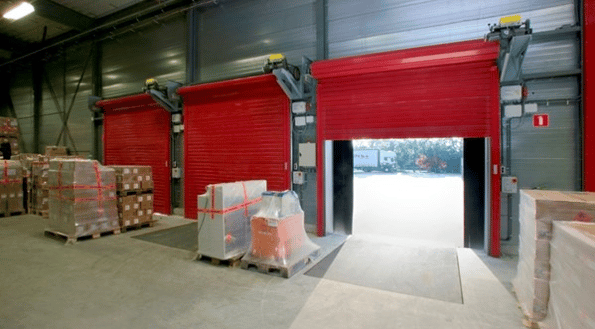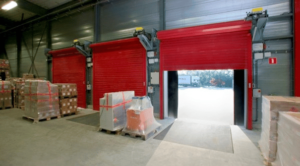 Rolling doors can be considered industrial doors with fire resistance performance.
According to its fire resistance rating:
For flames (integrity): E (time)
Reduced radiation: EW (time)
With thermal insulation: EI (time)
For more information, we also have an article on fire resistance ratings.
What is a fire curtain?
Fire curtains are systems made up of a mechanical element, a textile screen and an actuator mechanism. They remain retracted inside their container chest and are not visible until there is a fire. As soon as the alarms are activated, the curtain descends at a controlled speed from the ceiling to the floor, completely covering the surface.
They are automatic systems designed to guarantee integrity, insulation and low radiation, as well as impermeability to smoke.
FR Doors Vs Curtains: advantages and disadvantages
Now we will analyze the advantages and disadvantages of each system.
Advantages of fire doors
High mechanical resistance.
Structural durability over time.
Depending on the case, they can be used as elements to protect evacuation routes, integrating themselves therein.
They can remain open using retaining devices (electromagnets) activated by the fire signal.
Double function: security enclosure + protection enclosure.
Disadvantages of fire doors
Always visible or it is difficult to integrate them into the space.
Very heavy systems, needing work to be done or a reinforced support structure.
Need for ample lateral or upper space to house the layers.
Limitation of dimensions.
Advantages of fire curtains
Light and compact systems.
Systems that can be integrated into the architectural space (invisible).
Extrapolation to higher dimensions.
Possibility of polygonal layouts without using lateral guides (accordion/concertina).
Configuration of enclosures in the vertical and horizontal plane.
Disadvantages of fire curtains
Given their textile nature, they are not valid as security enclosures.
More susceptible to mechanical wear.
Limitation of solutions that can be used in evacuation routes.
They are not considered passage doors.
When we recommend fire curtains instead of fire doors
After the analysis above, we can conclude and recommend the use of fire curtains in those scenarios where there are large spaces to be sectorized. However, at Tecnitex we recommend using this characteristic rationally.
Large curtains are less durable and more difficult to install and maintain.
Another advantage is the ease of integration of the systems in renovation projects, where space for the placement of the elements will be limited.
Light and compact systems
They represent an innovative solution to the architectural concept of open-plan space, allowing for environments with greater amplitude and lighting without breaking with aesthetics.
Invisible systems
Raúl Alonso Sastre
CEO at Tecnitex Fire Systems