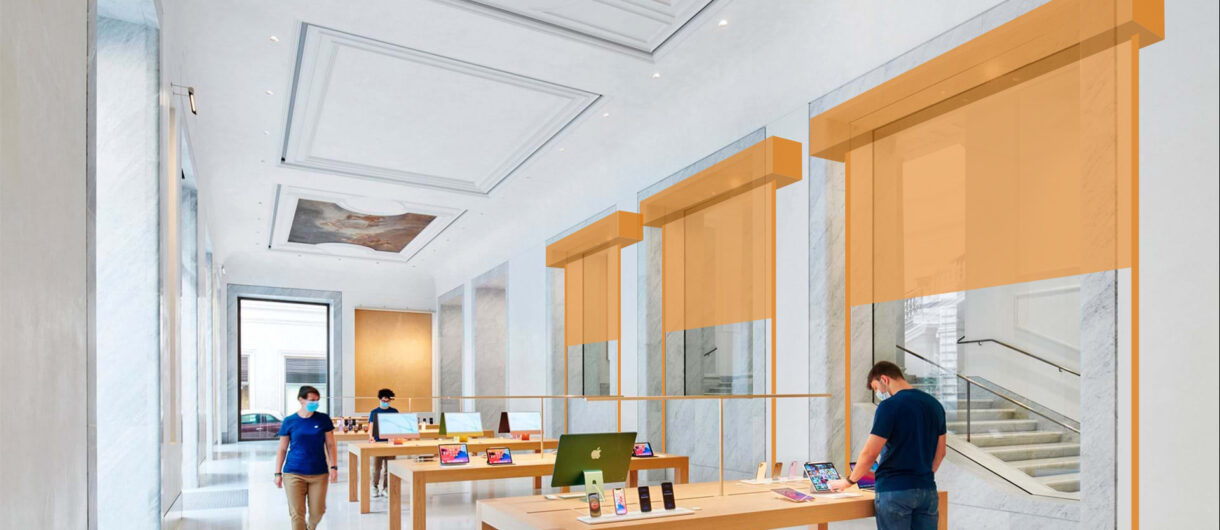 09 / 08 / 2022
/
Projects
Apple Via del Corso: an embedded sectorization project with no aesthetic impact
We have launched a new section on our blog and could think of nothing better than to talk about one of our success stories or, as we say at Tecnitex, one of our Shared Stories. Today, we want to tell you about our project at the Apple store on Rome's Via del Corso.
This new Apple store opened on May 27th in the very heart of Rome, specifically in the historic Palazzo Marignoli. The project was developed by Foster & Partners, a prestigious architecture studio that wanted to pay homage to Rome's rich history of art and culture through one of Apple's most significant restoration projects.
What did the premises need?
With regard to fire protection, the project needed to embed a sectorization system in a historic building with well-defined architectural characteristics, without impacting the space's aesthetics and artistic/cultural legacy.
The solution implemented:
Space is at a premium in the store, which is open-plan with aesthetic cladding and finishing (marble, granite). For this reason, compact systems were used that were durable, highly fire retardant, thermally insulated, and could be adapted to the architectural design.
After a study of the building's characteristics, Tecnitex supplied the MFB EI-180 irrigated fire curtain, a curtain for control and sectorization in the event of a fire. It is an automated system that has been designed to ensure its integrity, thermal insulation and impermeability to smoke for more than 180 minutes at a temperature of 1000 ºC.
Conscious of how important it is for the systems not to be visible, we worked on hiding them through the installation of embedded slides, hidden drawers and the special RAL. This means that it is impossible to see the curtains. Just take a look at this photograph.