SIMPLE AUTOMATED MOBILE CURTAIN FOR SMOKE CONTROL
MSB DH-60/DA-150 Simple mobile curtain for smoke control
Tecnitex MSB DH-60/DA-150 is an automated mobile curtain made with a continuous form on a single roller designed for the control and channelling of smoke in case of fire. It is an invisible element whose purpose is to create deposits or channels intended for the accumulation or guiding of smoke to areas where it can be evacuated.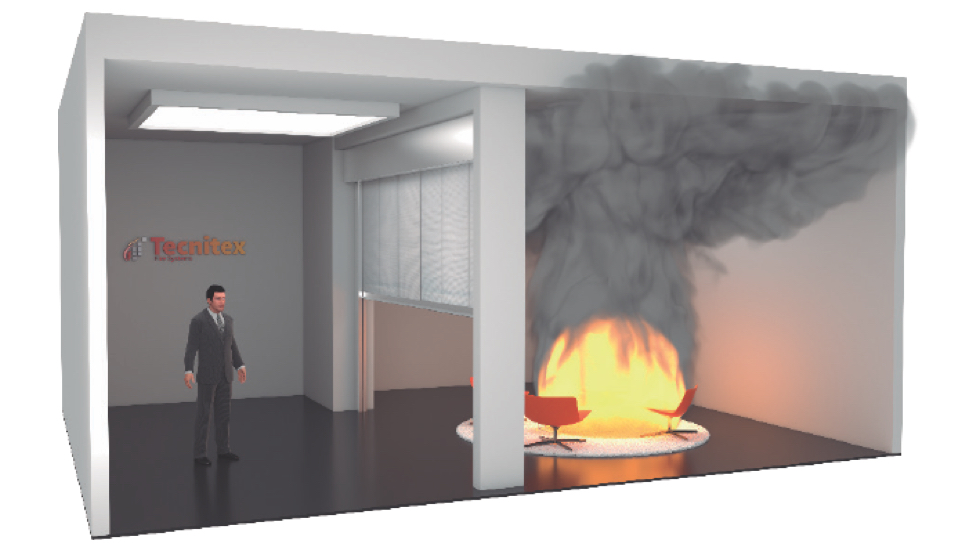 Protective purpose
Protection and non-penetration of smoke for 60 minutes at 1000ºC (DH-60).
Protection and non-penetration of smoke for 150 minutes at 600ºC (DA-150).
System on a single roller without overlaps.
Adaptable to multiple installation configurations.
Characteristics
The MSB mobile curtains are made up of technical textile reference 450/PU/2 of fibreglass covered on both sides with polyurethane, a flame retardant material which facilitates the manipulation of the textile while providing greater rigidity, non-penetration of smoke, and preventing it from fraying.
This material is also water repellent and has great resistance to cutting and acids.
Technical diagram
The TECNITEX MSB DH-60/DA-150 smoke control curtains are installed in order to completely close the smoke deposit, lowering to floor level with ASB-3 & ASB-4 systems, or leaving a free space of 2.5m from ground level to the counterweight bar of the system in its unfolded position with ASB-1 & ASB-2 systems.
*Note: We have a wide range of profile trims and finishes for fitting against ceilings.
*Nota: Only in the case of planning for a movement or deflection allowing the emission of smoke into the adjoining deposit will lateral guides or deflectors be installed.
I'm interested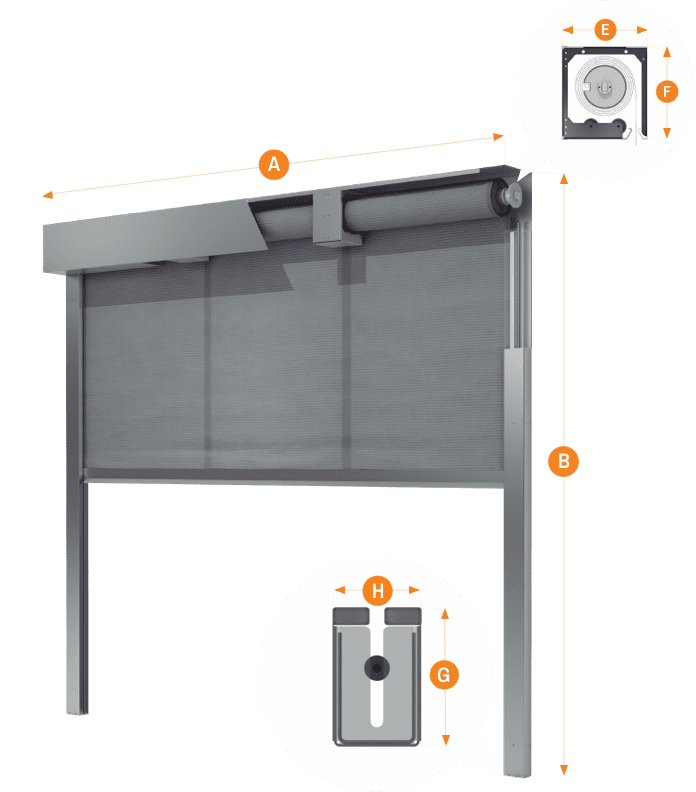 BOX
MAXIMUM DIMENSIONS (A)
BOX DIMENSIONS (E/F) mm
SERIE-S22
Up to 5500 wide (depending on height)
220X220
SERIE-S22
Up to 8000 high for max. width of 3500
220X220
BOX
MAXIMUM DIMENSIONS (A) mm
BOX DIMENSIONS (E/F) mm
WIDTH (A) mm
HEIGHT (B) mm
SERIE-R22
12000
6500
220X220
SERIE-R24
12000
8000
240X260
GUIDES
MAXIMUM DIMENSIONS
GUIDE DIMENSIONS (H/G) mm
WIDTH (A) mm
HEIGHT (B) mm
SG-120
12000
Up to 4500
70X120
SG-130
12000
> 4500
70X130
System of
Smoke Control Curtains