TRANSITABLE MOBILE CURTAIN FOR EVACUATION
MSBEX DH-60/DA-150 Transitable mobile smoke curtain
Tecnitex MSBEX DH-60/DA-150 is an automated mobile curtain designed for the control and channelling of smoke in case of fire in transitable or evacuation passages. It is an invisible element whose purpose is to create deposits or channels intended for the accumulation or guiding of smoke to areas where it can be evacuated. Its passable design allows the evacuation of people or the movement of elements through the system in the fire position.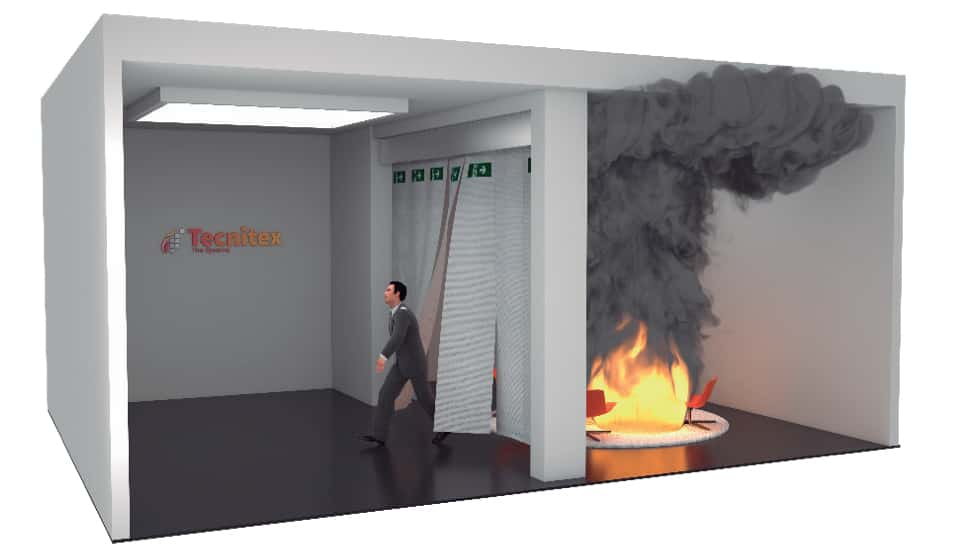 Protective purpose
Protection and non-penetration of smoke for 60 minutes at 1000ºC (DH-60).
Protection and non-penetration of smoke for 150 minutes at 600ºC (DA-150).
Extensive possibilities for dimensions.
Adaptable to multiple installation configurations.
Passable divisions intended for the evacuation of people.
Characteristics
Made up of technical textile reference 450/PU/2 of fibreglass covered on both sides with polyurethane, a flame retardant material which facilitates the manipulation of the textile while providing greater rigidity, non-penetration of smoke, and preventing it from fraying. This material is also water repellent and has great resistance to cutting and acids.
Technical diagram
The TECNITEX MSBEX DH-60/DA-150 smoke control curtains are installed in order to fully close off the smoke deposit, lowering to floor level with ASB-3 & ASB-4 systems, their design and configuration in panels allowing the evacuation of people through the system, returning to its functional fire position.
Box options
CDV: Vertical housing with front and lower opening.
CDH: Horizontal housing with lower opening.
CDVF: Vertical housing with inverted front and lower opening.
I'm interested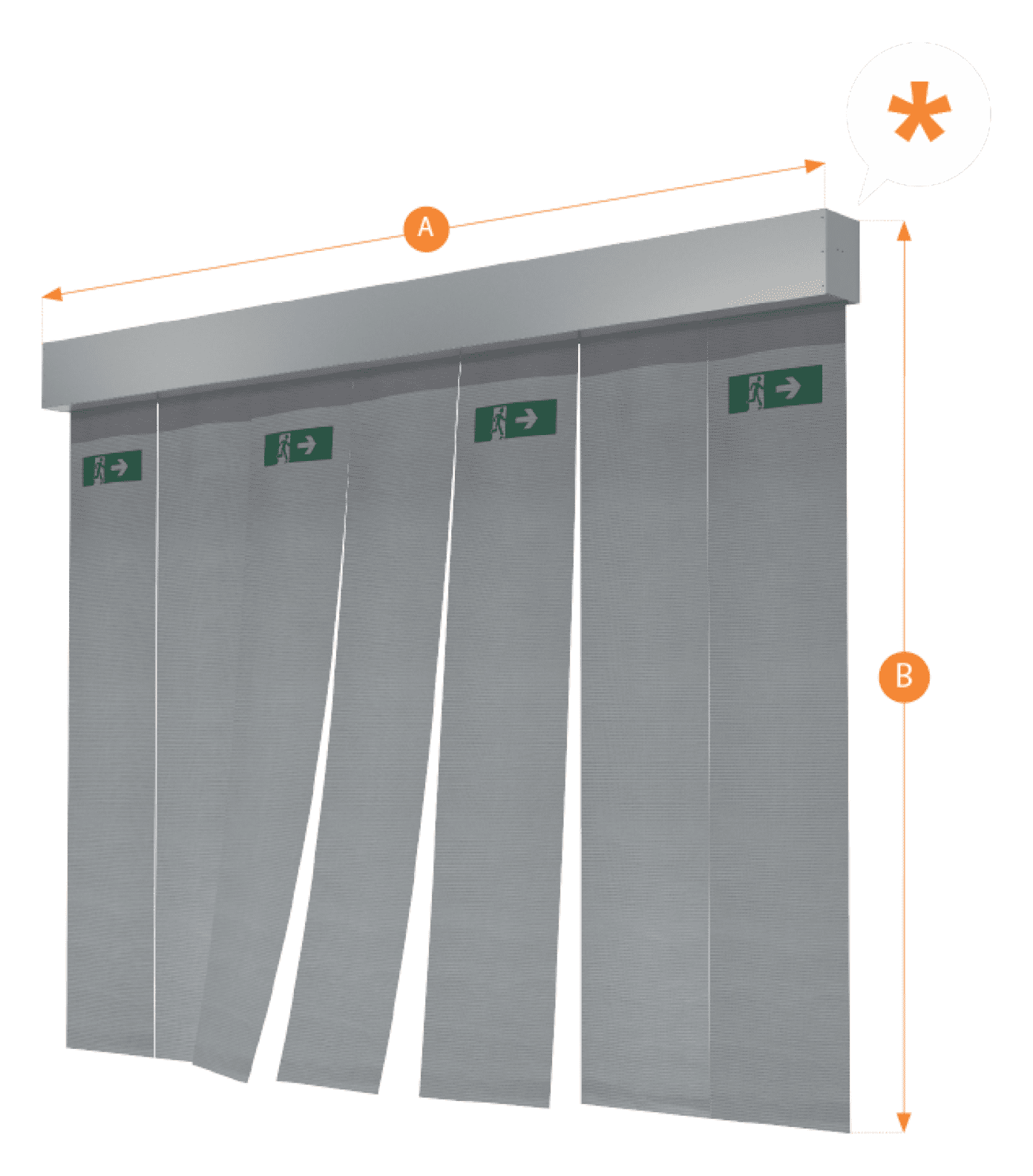 BOX
MAXIMUM DIMENSIONS (A)
BOX DIMENSIONS (E/F) mm
WIDTH (A) mm
HEIGHT (B) mm
SERIE-H
N/A
70X120
250X170
SERIE-HXL
N/A
≥ 6000
270x200
BOX
MAXIMUM DIMENSIONS (A) mm
BOX DIMENSIONS (E/F) mm
WIDTH (A) mm
HEIGHT (B) mm
SERIE-V
N/A
up to 6000
170X280
SERIE-VXL
N/A
≥ 6000
200X360
BOX
MAXIMUM DIMENSIONS
BOX DIMENSIONS (E/F) mm
WIDTH (A) mm
HEIGHT (B) mm
SERIE-VF
N/A
up to 6000
170X280
SERIE-VFXL
N/A
≥ 6000
200X360
System of
Smoke Control Curtains