MFB-BLIND E-120 Fire curtain system
MFB-BLIND E-120 Invisible fire curtain
The MFB-BLIND E-120 fire curtain model is an invisible compartmentalising system that allows the isolation of a specific section of any given environment.
Thanks to its configuration, it is possible to create completely open spaces since no side guides are required. Its purpose is to prevent the passage of flames from the affected area to the adjacent area in the event of a fire, thus preventing the fire from spreading.
It is a concealed system that remains retracted in its head box until activated, which is done by generating an automatic and controlled deployment. Fire curtains represent a light, aesthetic and innovative solution for the design of open spaces that are free of obstacles, without losing the requirements of compartmentalisation between fire sections.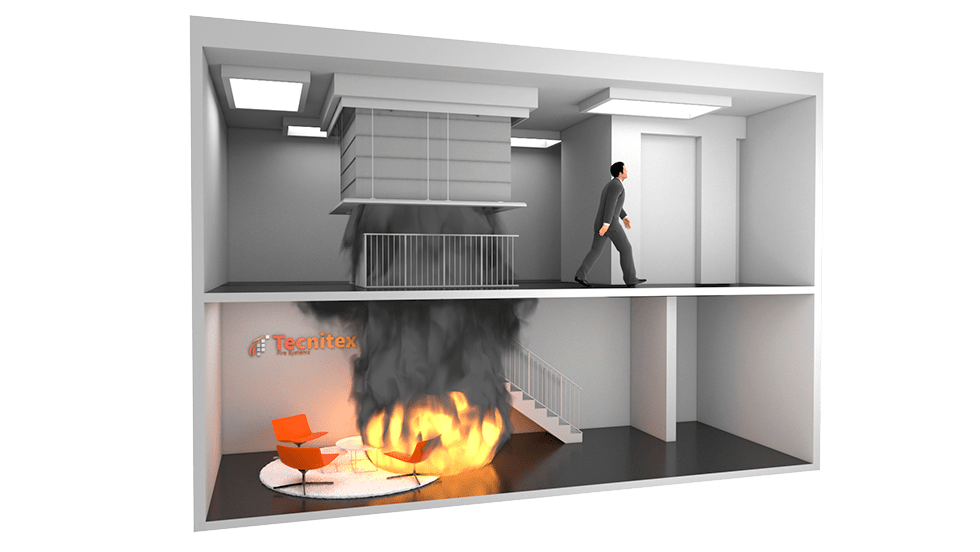 Protection objective
Fire resistance 120 min 1000ºC (Integrity).

No thermal insulation.

No low radiation emission property.
Features
The intended use of the system is to remain continuously open, and close only in the event of a fire when an activation signal is received from the control panel or any fire detection element within the building. The MFB BLIND E-120 fire protection curtains are installed for the maintenance of integrity only, therefore it must be taken into account that in the event of an advanced fire, due to the emission of heat radiation, the elements in the adjacent sector could be affected.
The systems are not intended to be reused or reopened for evacuation purposes or for access by fire-fighting personnel.
Exploded view
Head box. Galvanised sheet steel finish e=1.2mm.
Supports for the reinforcement and assembly of the head box. Galvanised sheet steel finish e=2mm.
Roller. Galvanised steel finish e=1.5mm.
Fibreglass fabric reference TECTEX 710/PU/IN-2
Container tray for folding the fabric. Galvanised steel e=1.2mm.
Stainless steel straps for lifting the tray.
Motor. 24 Vdc Motor (various torques) with an integrated "GRAVITY-FAIL-SAFE" controlled-descent system in case of main and secondary power failure.
Control panel. Various models depending on the characteristics or dimensions of the system.

*Note: The visible parts of the system may be customised with baked-on paint in the RAL colour of your choice.
I'm interested