Tecnitex MFBD E-120 is a modular (overlapping) fire curtain that remains intact when exposed to a direct attack by flames or a temperature greater than 1000 ºC for 120 minutes, preventing the passage of flames from one sector to another. It is an invisible fixture, the purpose of which is to prevent the passage of flames from one sector to another, thus limiting the spread of the fire.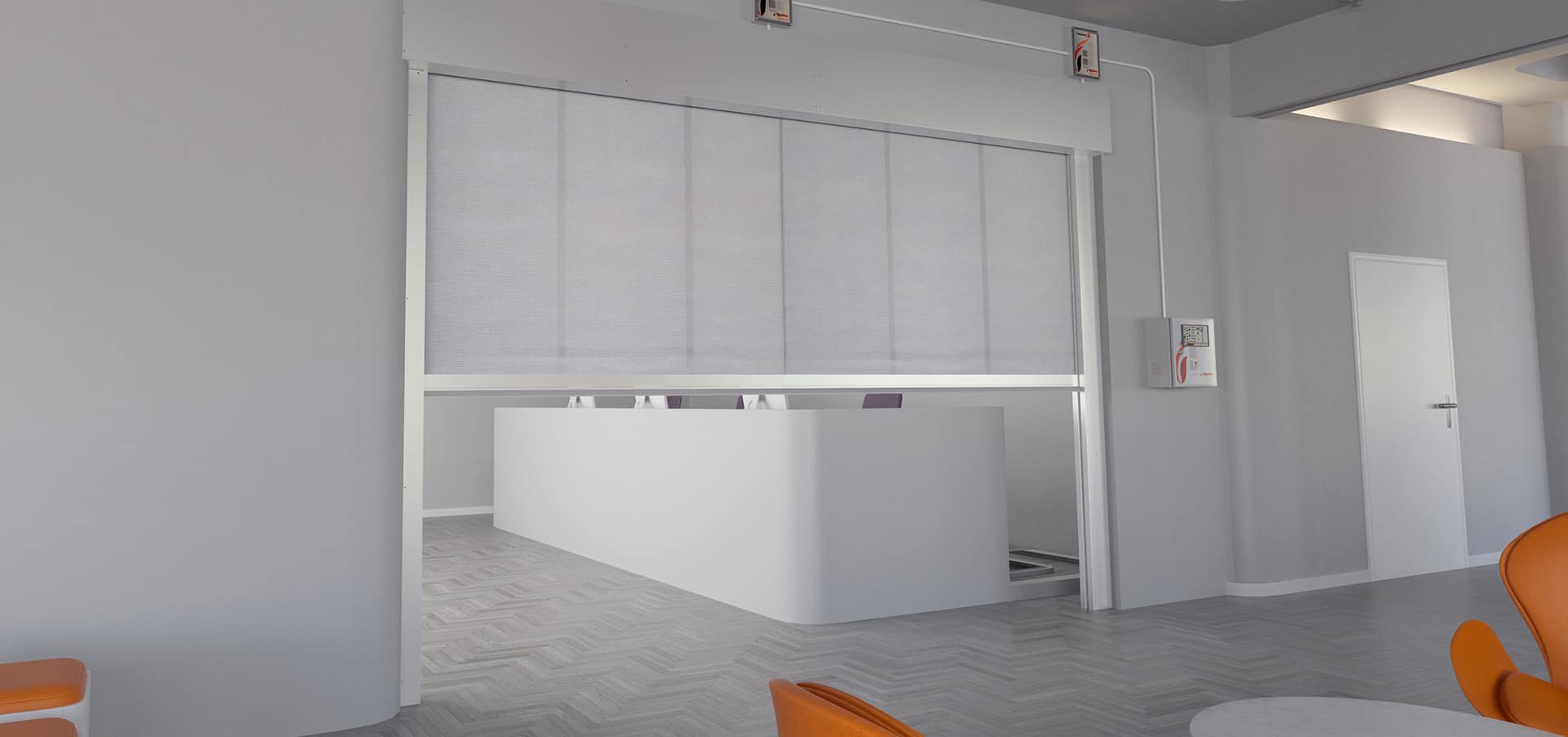 Protective purpose
Avoiding the spread of flames to the neighboring sector.

Fire resistance 120 min at more than 1000 ºC (Integrity).

Reducing radiation 30 min.

Large dimensions, unlimited length up to 10,000 mm in height.
Characteristics
The system is made up of technical fabric with the reference TECTEX 710-PU/IN/2, made of class E fiberglass reinforced with Inconel steel, covered with a fire-retardant polyurethane-based compound on both sides.
OPTIONAL
Ral to choose.
Closing or opening buttons.
ADVANTAGE
Pre-assembled systems.
Modular configuration with standardized parts.
Technical scheme
The TECNITEX MFB E-120 fire curtain is installed for integrity, so it must be taken into account that, in the event of an advanced fire, after 30 minutes of its EW-30 classification, the elements of the adjoining sector could be affected due to the emission of thermal radiation. These systems are especially suitable for outdoor areas, or areas where there are no flammable elements close to the unexposed side. Drawer options CDV: Vertical container drawer with front and lower register. CDH: Horizontal container drawer with lower register. CDVF: Vertical container drawer with inverted front and lower register.
I'm interested
BOX
MAXIMUM DIMENSIONS
BOX DIMENSIONS (E/F) mm
WIDTH (A) mm
HEIGHT (B) mm
SERIE-H
N/A
Up to 6000
250x170mm
SERIE-Hxl
N/A
≥ 6000
300x220mm
BOX
MAXIMUM DIMENSIONS
BOX DIMENSIONS (E/F) mm
WIDTH (A) mm
HEIGHT (B) mm
SERIE-V
N/A
Up to 6000
170x280mm
SERIE-Vxl
N/A
≥ 6000
220x380mm
BOX
MAXIMUM DIMENSIONS
BOX DIMENSIONS (E/F) mm
WIDTH (A) mm
HEIGHT (B) mm
SERIE-VF
N/A
Up to 6000
170x280mm
SERIE-VFxl
N/A
≥ 6000
220x380mm
GUIDES
MAXIMUM DIMENSIONS
GUIDE DIMENSIONS (H/G) mm
WIDTH (A) mm
HEIGHT (B) mm
SG-120
12000
Up to 4500
70x120mm
SG-130
12000
> 4500
70x130mm